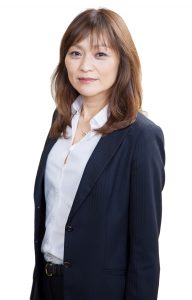 Mika Nomura
Head Hunting experience - 16 years.
Ten years overseas: (Hong Kong, six years; four years in New York) with an additional six years' work experience at a top foreign recruitment company in Japan.
Human resources operations, employment recruitment expert.
April 1989
After graduating from Kinjo Gakuin University Junior College, joined Woman Staff Co., Ltd. (now Tempstaff People Co., Ltd.) in hometown, Nagoya. Duties focused on temporary staffing, contracting business and government bids.
September 1994
Joined Pasona Consultants Hong Kong, responsible for local recruitment operations as well as those across Asia. Helped successfully launch the Pasona Shanghai office, a major contributing factor in developing the company's business expansion into China.
July 2000
Moved to New York, USA, and changed scope of activities at a prominent Japanese human resources firm. Gained valuable know-how as a recruiter/ head hunter. Mainly responsible for telecoms, automotive, financial, and a unit of the Tokyo Stock Exchange office covering listed manufacturing companies and leading US firms.
September 2004
Recognizing the future expansion potential of the human resources market in Japan, after 10 years of living abroad, returned to Tokyo
February 2005
Joined Hays Specialist Recruitment Japan KK. Worked as head hunter in the financial IT sector. Making full use of my wide ranging experience and unique overseas network of contacts, I consistently ranked within the top five in sales each year:
2006 and 2007 was ranked No. 1
2010 ranked 2nd overall in sales
2008~2009
Transitioned my career toward in-house training for a UK firm headquartered in Tokyo and was in charge of human resources development. My role became in-house personal trainer to help localize the recruiter training program of the United Kingdom headquarters in Japan. I successfully carried out the planning and development of specially tailored training programs for the Japanese market.
May 2011
Independent operations
Wishing to apply the deep knowledge I gained in the human resources industry for over 20 years domestically and overseas, and seeking a way to leverage years of successful surveys and research work, I established Aphrodia as my own independent consulting firm.